When purchasing an inground or above-ground swimming pool, installing a fence and latching gate that meet safety standards is of utmost importance. While there is a plethora of information available, you need to clearly understand each of the current standards and regulations to plan your fencing project and choose the right model. By reaching out to a team of recognized professionals , you'll guarantee that your space is as safe as possible. Our specialists will bring you peace of mind and make sure that all features comply with regulations set by the Règlement sur la sécurité des piscines résidentielles du Gouvernement du Québec. Before building a fence around your pool, consider these key points.
1.Planning
First, planning ahead of timet is essential. It can be quite challenging for us to guarantee an installation date that meets your timeline if your request is made at the last minute. This is due to a spike in swimming pool purchases, mainly seen since 2020, and because the Règlement sur la sécurité des piscines résidentielles du gouvernement du Québec requires fencing around all pools. Our calendar always fills up quickly, so we recommend that you plan both your fence order and your pool purchase at the same time, so that we can schedule the fence installation according to your pool delivery date.
2. Regulations
No matter what type of barrier you choose, a fence will need to be installed. A sturdy cedar hedge cannot legally replace a fence. For inground and semi-inground pools, a fence needs to surround all sides. For above-ground pools, the patio or deck providing access to the pool needs be fenced in. 
As for the type of fence you choose, it must meet the following standards:
The minimum height must be 1.2 m (4 ft) at all points, measured from the ground, or from a platform, step or any other surface which a child may access.

The distance between the bars must block a spherical object with a 10 cm diameter.

The fence must not include fasteners or open sections that would make it easier to climb.

All gates that provide access to the pool must feature a passive locking system that closes and locks automatically. The latch should be on the inside of the gate, near the top, out of children's reach. 
3. Best Models to Choose From
You can trust our team to guide you towards the most appropriate model, to meet your needs while complying with all safety standards. Here are some of the best models for you:
Glass fencing:

this is the safest model, as it provides uninterrupted views of the pool at all times and complies with safety standards. Plus, it brings added value to your home.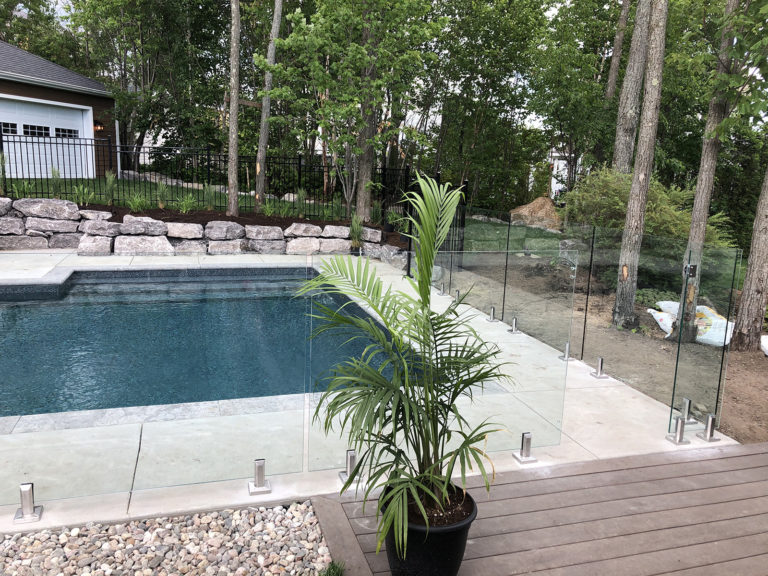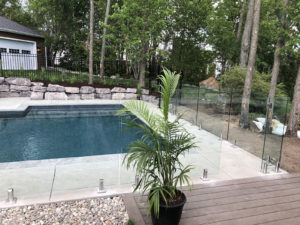 Ornamental fencing:

 this is one of the most popular models for swimming pools. While it brings elegance and prestige to your property, it also provides good visibility around the pool.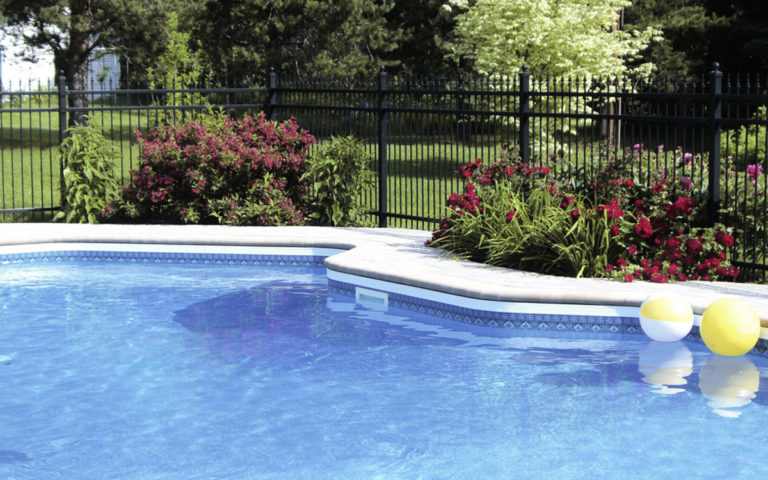 Privacy fencing:

whether you prefer an ornamental fence, or steel or composite panels, our range of privacy models will shield you from prying eyes next door. We recommend that you combine it with a model that provides better visibility. In this way, you can still see the pool at all times and opt for privacy fencing on sides that are adjacent to your neighbours' property.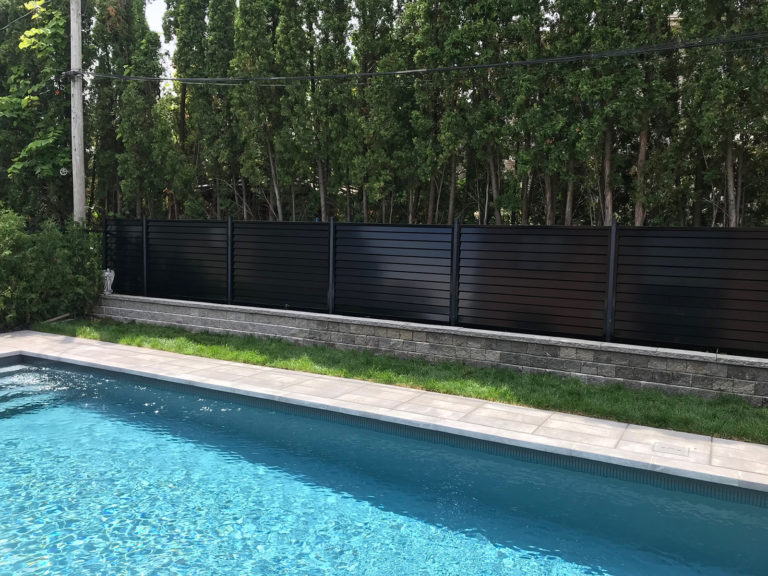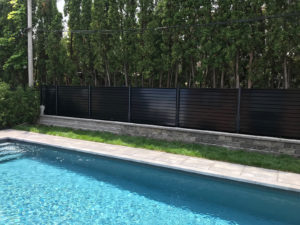 Find the Inter Clôtures member nearest you to plan your pool project today.
Get inspired by our most beautiful photos of poolside fences here.